Tattoo Artists
Terry Mayo - View Tattoo Gallery - Email Artist



The Owner and one of CAT TATTOO's multi-award winning artists, Terry Mayo's interest in the creative arts and what would later develop into a successful Tattoo career began at an early age. Always drawing as opposed to playing with toys and dabbling in usual child activity, Terry was first exposed to the industry during the sixth grade.At the time Terry's attention was focused on the artwork of various artists who would inspire him to try different styles, some of these being CARtoons Magazine, (A Big Daddy Ed Roth publication) which advertised tattoo products in the back. "Along with Ed Roth's work it was the most edgy art I had ever seen." And it was these sort of magazine's along with comic book artist legends such as Frank Miller, Todd McFarlane, Sam Kieth, Jae Lee, and Frank Frazetta that later influenced Terry's own understanding of what looked on the 'edge'. With all this material to inspire his creativity, Terry ironically first began making money off his talents by receiving lunch money as payment for temporary tattoos and line work on kids at school, and thus Terry continued on to pursue and use his artistic abilities in several ways, "During High School I was hooked on comics. Learning to draw the human form doing most anything, I tried to break into the industry for years. Doing a small body of work, including a 40+ page comic book of which the pages where fully painted, but it never got me where I wanted to be." Tattooing out of his house at age 20 after being exposed to the Tattoo world but a year prior, Terry managed to finally get his foot in the door with the photos and full color comic book as examples of his artistic talents. Landing a job at Tigger's, for the next 5 years Terry would learn many lessons about the industry, and tattooing in general. Using everything he'd picked up from childhood to working in Tigger's shop, Terry Mayo opened CAT TATTOO at age 26. "I wanted my studio to excel beyond what the present studios had to offer. CAT TATTOO was the first all custom tattoo studio in the Dallas, FT. Worth Metroplex. Spending more than a decade promoting and building my studio's reputation, CAT TATTOO is now a cornerstone of the tattoo industry for Dallas if not Texas."
Aaron Grace - View Tattoo Gallery - Email Artist



Aaron Grace directed his artistic talents in the Tattoo Industry 8 years ago in Louisville, Texas. Having a total of 15 years of Art experience extending back into high school and a major in Graphic Design, Aaron Grace's style has developed towards very abstract, bold and colorful pieces. He's influences are mostly painters, some of which include Picaso, Matese, and Dali. As well as Bugs, John Clue, and Mike Cole. "Its all about surviving, Tattooing is another way for an artist to make money and keep living creative." Aaron Grace is currently at Cat Tattoo in Addison, TX. If you'd like to make an appointment or are interested in his work feel free to send an email in the link provided or drop a line at Cat Tattoo.
JON - View Tattoo Gallery - Email Artist



Appointment Only

Cell: 214-403-4329

Jon descends from a long line of troll hunters and goblin slayers. Incidentally he also keeps a necklace of goblin ears nearby at all times for good luck. He has loved art since childhood and has worked professionally as a sculptor, painter, and fabricator. Jon has always liked tattoos and even received a few before considering a career in tattooing to be possible. It was a product of opportunity being in the right place at the right time with the right work/art experience and it all fell together.

Influences include Terry Mayo, Memphis, and many of the artists coming through Cat Tattoo whom he has learned from and watched for years. Jon enjoys color and black and grey work, and prefers to remain versatile and diverse to keep from falling into a niche. Jon is currently at Cat Tattoo in Addison, TX. If you'd like to make an appointment or are interested in his work feel free to send an email in the link provided or drop a line at Cat Tattoo or Jon's Cell
Mark C. Merchant - View Tattoo Gallery - Email Artist



Mark C. Merchant mixes your idea and his imaginative symbolism with the "bold-will-hold" tattoo style to create a tattoo for you that won't need to be upgraded or redone in a few short years.

He started tattooing in 1994 and is still as passionate about helping you with your tattoo today as he was then!

When not tattooing you Mark is constantly exploring art and often showing his personal work in galleries/venues.

Mark is an optimist overall and has a genuine love for life on all levels. You can reach Mark for appointments at 469-203-5033
Joby Cummings - View Tattoo Gallery - Email Artist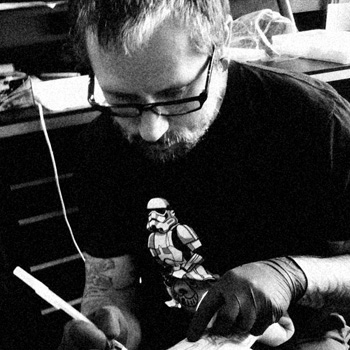 Joby Cummings was born from unique union of a young hippy Jewish girl and the self proclaimed 70s guru "The Blackfoot Indian Chief" in Palm Springs, California raised redneck in rural Texas discovered his mom's art supplies at age seven he gave up his destiny as a prestigious rocket scientist and pursued the career of a starving artist. He then spent many years daydreaming, avoiding responsibilities and drawing instead of doing schoolwork. He was heavily influenced at a young age by classic lowbrow art and cartoons like Wacky Packages, Ed Roth, and early Disney animations.

Joby later went on to attend some obscure Jr College with hopes of becoming a top tier graphic designer. Fate would have it as he was distracted by the allure of the tattoo industry and found himself apprenticing in a local studio in Dallas, Texas. Thrown into the fast paced environment of a high volume tattoo shop in the early 1990s he would get his baptism by fire in illustration and design. Eight years later he found himself returning to graphic design realm. This move overlapped his tattoo career and eventually took precedent until late 2005. Joby had a "come to Jesus" moment and decided for his own sanity it was best he quit the corporate grind and move to back to Los Angeles in order to full fill his lifelong destiny. To become a rocket scientist! Well that idea lasted about as long as it took to open his car door. And off to Cali we went.

Joby Cummings has won numerous awards in the tattoo industry and in graphic design. I't would be proper to list them but the subject of the awards is relatively disconnected from the current direction of his art. We believe it is better to let you reach your own conclusion rather than let a trophy contaminate your opinion.

Joby's art has been displayed at Monkey King- LA, The Red Crow Studio - San diego, Zubar - Dallas, Velvet Grip - LA, Solsticycle - Echo Park, several Viva LA shows, Cannibal Flower - Los Angeles and numerous other galleries and venues. Many of his original paintings and prints are in private collections Across the United States and Canada.

Publications that have features his artist include: Tattoo Savage, International Tattoo, Skin Art, Tattoo Flash, and Inked - teNeues Publishing. His art also can be found in numerous clothing lines and t-shirt companies such as: Christian Audigier, Scanty Pajamas, Zissou & Spike, BCBG, Vertigo, Joie, ENK, West 49, and Shirt.Woot.

Joby often describes his art as pop culture meets lowbrow nestled in a extra dimensional cartoon that never existed, or did it. He likes to focus on combining elements that normally would not ordinarily be found together and he attempts to find harmony in these items and deliver them with a bit of humor and a nice dose of the bazaar.
Jacob - View Tattoo Gallery - Email Artist


This biography has been meticulously investigated, proven, and backed by scholars, historians, and professor X to be true. Or I'll punch you in the face...

Born into a city called Atlantis, I caused contractions in my mother which sent tremors throughout the entire civilization. I crowned through the birth canal with a great explosion which killed my shaman instantly and hurled Atlantis gargling into the sea. Once I hit the water it burst into flames. Where as a new born infant I swam thousands of miles in an ocean of fire towing my mother behind me with my own umbilical cord, battling all sorts of evils such as mermaids, the New York Yankees and Giants, Klingons, and Poseidon along the way. Once I reached land I pulled my cord to find not my mother, but a great white shark. At this point I know I'm on my own, and I'll have to support myself. So I punched the shark in the face until it died from natural causes, and made it into a suit and briefcase to go looking for a job. I crawled 5 feet until I taught myself to walk. Then I tracked down a dragon and turned in my application for the open ninja position. I was personally hired by Mr. Miagi to put and end to the Karate Kid's reign of terror. After centuries of killing every thing I wanted such as the dinosaurs, (all of them) the Backstreet boys & N'Sync, (your welcome) the Atari, Koopa, Megatron, Skeletor, Osama Bin Ladin, skinny jeans, hot pink, (the color) left handed people, the Roman Empire, VCR and Tape decks, and legions of N00bs! Challenged to a bare knuckle tag team checkers match by Chuck Norris and the most interesting man in the world. Chuck became furious when he had to king me and punched me in the face and died instantly, as for the most interesting man... He later died of his wounds as a result of my double jumps. Only later did I discover they were collectively my father, also Wolverine, William Wallace, and Brad Pitt. I couldn't live with myself after dominating them them so bad, so I vowed to hang up my headband, nun chuck's, and throwing stars forever. The next logical choice was to become a tattoo artist so I jumped on my puma and galloped to Cat Tattoo, where you can find me to this day splitting my time between tattooing, and training for judgement day, the zombie apocalypse, and Y2K.
Shanti - View Tattoo Gallery - Email Artist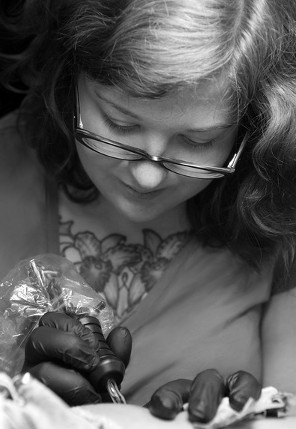 Available for appointments:
Fri – Sat 12pm – 12am
Sun 12pm – 8pm
Mon 12pm – 10pm
Shanti Cameron was born in Austin, Texas, into a military family. She was exposed to art at an early age thanks to her Mom, a graphic artist. "I have countless fond memories of her drawing cartoons for me to color," Shanti recalls, "and I always wanted to be able to draw just like that."
In her early teens, her family moved to Panama and was surrounded by the beauty of nature. While there she became a certified scuba diver, avid boogie boarder, and found wonder in everything around her. She soon developed a love for drawing wildlife. With encouragement from her art teachers, Shanti placed in the top 10 at the national level for the Junior Federal Duck Stamp competition.
Shanti married at a young age and held several creative jobs including cake decorating, picture framing, and painting miniatures. During her late 20s, she became a Mom and stayed home to focus on raising both of her girls.
When her girls grew older, she felt the urge to return to creating art as well as help support her family. While drawing a series of tattoo designs to celebrate her Mother-in-law beating breast cancer, she had an epiphany; she knew becoming a tattoo artist was a perfect fit. After a long hunt, and a move across country, she started an apprenticeship at Cat Tattoo, where she worked hard to develop her skills and become a tattoo artist.
Shanti is inspired by the Art Nouveau movement – Alphonse Mucha in particular. Currently, she is working on developing and refining her neo-traditional style, but also enjoys the challenge of working in other styles. If you are interested in working with Shanti, you can contact her by email at shanti@cattattoo.com , or call into the shop.
Sunny Lovan - View Tattoo Gallery - Email Artist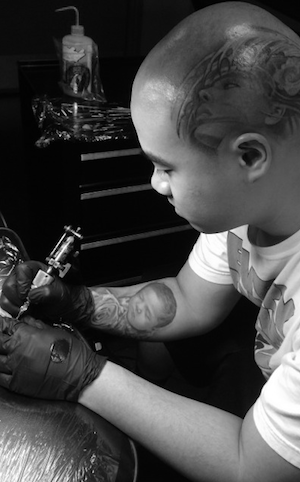 Available for walk-ins and appointments:
Fri – Sat 12pm – 12am
Sun 12pm – 8pm
Mon – Tues 12pm – 10pm
Sunny began his artistic pursuits drawing as a small child, and later on took a liking to water color and oil paintings. His older brother introduced and brought him around tattooing when he was 14, and loved it so much he started tattooing at 19 in Dallas. Putting almost 5 years of experience under his belt, Sunny has taken inspiration from Carlos Tores and Victor Portugal to improve his own work and artistic expression. Sunny's favorite style and preference is Black and Grey Realism. Sunny is currently at Cat Tattoo in Addison, TX. If you'd like to make an appointment or are interested in his work feel free to send an email in the link provided or drop a line at Cat Tattoo.
Memphis - View Tattoo Gallery - Email Artist


Having taken an early interest in art from Looney Tunes and drawing for fun, Memphis never considered the possibility of becoming a tattoo artist, even while getting tattooed at the time. He first found a spread of Cleen Rock One's work and then Jimmy Litwalk and Gunner's spreads together in a magazine, and was both impressed and surprised that tattoos could look so good. A piercer friend, Aaron Anderson noticed Memphis's talent while doodling and asked him If he ever thought about tattooing. He hadn't of course, but the idea was planted nonetheless. Memphis found and completed an apprenticeship and has spent the last eleven years professionally tattooing. Some of his other tattooing influences include Ben Reese, and Kevin and Shannon from Ramesses Shadow. Memphis is open to a variety of styles and work but loves to do full color pieces. Memphis is currently at Cat Tattoo in Addison, TX. If you'd like to make an appointment or are interested in his work feel free to send an email in the link provided or drop a line at Cat Tattoo.
SNEKER - View Tattoo Gallery - Email Artist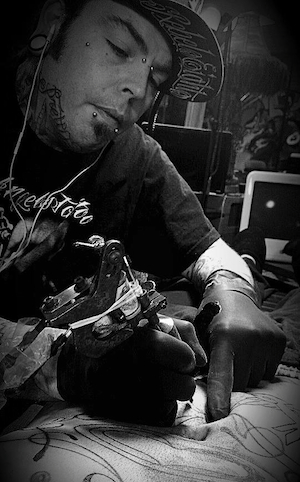 Available for walk-ins and appointments:
Fri – Sat 12pm – 12am
Tues – Thurs 12pm – 10pm
Sneker displayed tremendous interest in the arts even before he could write his own name, drawing and painting, and later on in many if not all paint mediums. Although he started working in civil drafting and architecture, eventually he started tattooing in Bossier Louisiana and then moved to his home town of West Monroe to start his own shops, "Tat2u & Lucky 13". But then he finally moved to Dallas, away from the small-town scene to push the limits of his work and make a name for himself in the city. Already an award-winning magazine published tattoo artist since 2000, Sneker prides himself in his accumulated styles and techniques, always looking for a new and better piece to challenge himself and provide his customers with wonderful work. Sneker is currently at Cat Tattoo in Addison, TX. If you'd like to make an appointment or are interested in his work feel free to send an email in the link provided or drop a line at Cat Tattoo.
Piercers
Brittany-Jo - View Piercing Gallery - Email Artist



Avalible for walk-in and appointment piercings and laser removal:

Tues - Thurs 12pm - 10pm

Fri - Sat 12pm - 12am

Brittany Jo started her career in the medical field by completing a two year CNA program at her high school. During that time she also caught the eye of college recruiters when, in her first year in competitive wrestling, she earned second place at the National level. After graduating high school, she turned down college wresting scholarships to continue her pursuit of a medical career. After passing all state exams, she utilized her skills in nursing homes and hospitals around DFW and accepted an apprenticeship from Dr. Clyde R. Lee at Lee Dental in Frisco, Texas. During her time as a Dental Assistant, she learned in depth information about blood bourne pathogens, sterilization, and the oral cavity through maxillofacial surgeries, endodontics and periodontics.

A unique opportunity arose to begin a piercing and laser removal apprenticeship at Cat Tattoo under Matt Kizer, the former head piercer at Cat Tattoo for over 13 years. "He couldn't have been a better mentor!" Combing her formal medical training with over 80 years of knowledge of pigments from the tattoo artists at the studio, she elevates her approach beyond technicians just working in clinics and Doctor's offices. She completed her apprenticeship and became the Head Body Piercing Artist and Laser Tattoo Removal Technician.

Brittany Jo specializes in surface anchors and corrective body modification. Being a former avid piercee, she has the perspective of being on the other side of the needle and seeks to surpass her former piercing adventures. "I strive to give every client the experience I wished to have had, leaving them with not only a piercing for years, but proper aftercare knowledge for a lifetime."