Tattoo Artists
Terry Mayo - View Tattoo Gallery - Email Artist



The Owner and one of CAT TATTOO's multi-award winning artists, Terry Mayo's interest in the creative arts and what would later develop into a successful Tattoo career began at an early age. Always drawing as opposed to playing with toys and dabbling in usual child activity, Terry was first exposed to the industry during the sixth grade.At the time Terry's attention was focused on the artwork of various artists who would inspire him to try different styles, some of these being CARtoons Magazine, (A Big Daddy Ed Roth publication) which advertised tattoo products in the back. "Along with Ed Roth's work it was the most edgy art I had ever seen." And it was these sort of magazine's along with comic book artist legends such as Frank Miller, Todd McFarlane, Sam Kieth, Jae Lee, and Frank Frazetta that later influenced Terry's own understanding of what looked on the 'edge'. With all this material to inspire his creativity, Terry ironically first began making money off his talents by receiving lunch money as payment for temporary tattoos and line work on kids at school, and thus Terry continued on to pursue and use his artistic abilities in several ways, "During High School I was hooked on comics. Learning to draw the human form doing most anything, I tried to break into the industry for years. Doing a small body of work, including a 40+ page comic book of which the pages where fully painted, but it never got me where I wanted to be." Tattooing out of his house at age 20 after being exposed to the Tattoo world but a year prior, Terry managed to finally get his foot in the door with the photos and full color comic book as examples of his artistic talents. Landing a job at Tigger's, for the next 5 years Terry would learn many lessons about the industry, and tattooing in general. Using everything he'd picked up from childhood to working in Tigger's shop, Terry Mayo opened CAT TATTOO at age 26. "I wanted my studio to excel beyond what the present studios had to offer. CAT TATTOO was the first all custom tattoo studio in the Dallas, FT. Worth Metroplex. Spending more than a decade promoting and building my studio's reputation, CAT TATTOO is now a cornerstone of the tattoo industry for Dallas if not Texas."
Aaron Grace - View Tattoo Gallery - Email Artist



Aaron Grace directed his artistic talents in the Tattoo Industry 8 years ago in Louisville, Texas. Having a total of 15 years of Art experience extending back into high school and a major in Graphic Design, Aaron Grace's style has developed towards very abstract, bold and colorful pieces. He's influences are mostly painters, some of which include Picaso, Matese, and Dali. As well as Bugs, John Clue, and Mike Cole. "Its all about surviving, Tattooing is another way for an artist to make money and keep living creative." Aaron Grace is currently at Cat Tattoo in Addison, TX. If you'd like to make an appointment or are interested in his work feel free to send an email in the link provided or drop a line at Cat Tattoo.
Francisco Sanchez - View Tattoo Gallery - Email Artist



Frank Sanchez kindled a passion for art during childhood, entering art contests and investing more time into art as he accumulated art supplies. He attended private classes and extracurricular lessons studying oil paints and pastels. His goal at 5th grade was to enroll in an art academy. His craft won school competitions and contests at an early age. Frank spent some time in the Booker T Washington Art School in Dallas developing his skills further and studying oil painting. He helped the Oakcliff Mural program at 17 teaching art to underprivileged kids. Not wanting a job that didn't help facilitate his love for the craft he turned to tattooing, dedicating himself to learning the trade. Frank has a perfectionist attitude towards his work, always trying to improve. He creates quality portrait work and has interests in realism and oil painting.  Frank Sanchez is currently at Cat Tattoo in Addison, Tx. If you'd like to make an appointment or are interested in his work feel free to send an email in the link provided or drop a line at Cat Tattoo. 

kiko_oakcliff@yahoo.com

My rate is 200 an hour, For new clients trying to set up appointments please contact Rick, he handles most of my booking, stop by the shop and talk to him and he will help you set a date and answer any questions you may have, thank you
Mark C. Merchant - View Tattoo Gallery - Email Artist



Mark C. Merchant mixes your idea and his imaginative symbolism with the "bold-will-hold" tattoo style to create a tattoo for you that won't need to be upgraded or redone in a few short years.

He started tattooing in 1994 and is still as passionate about helping you with your tattoo today as he was then!

When not tattooing you Mark is constantly exploring art and often showing his personal work in galleries/venues.

Mark is an optimist overall and has a genuine love for life on all levels. You can reach Mark for appointments at 469-203-5033
Joby Cummings - View Tattoo Gallery - Email Artist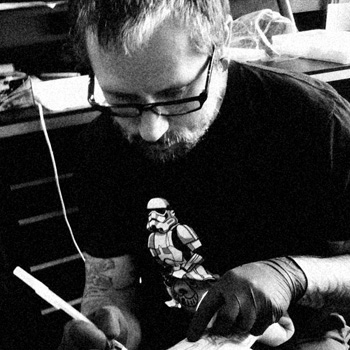 Joby Cummings was born from unique union of a young hippy Jewish girl and the self proclaimed 70s guru "The Blackfoot Indian Chief" in Palm Springs, California raised redneck in rural Texas discovered his mom's art supplies at age seven he gave up his destiny as a prestigious rocket scientist and pursued the career of a starving artist. He then spent many years daydreaming, avoiding responsibilities and drawing instead of doing schoolwork. He was heavily influenced at a young age by classic lowbrow art and cartoons like Wacky Packages, Ed Roth, and early Disney animations.

Joby later went on to attend some obscure Jr College with hopes of becoming a top tier graphic designer. Fate would have it as he was distracted by the allure of the tattoo industry and found himself apprenticing in a local studio in Dallas, Texas. Thrown into the fast paced environment of a high volume tattoo shop in the early 1990s he would get his baptism by fire in illustration and design. Eight years later he found himself returning to graphic design realm. This move overlapped his tattoo career and eventually took precedent until late 2005. Joby had a "come to Jesus" moment and decided for his own sanity it was best he quit the corporate grind and move to back to Los Angeles in order to full fill his lifelong destiny. To become a rocket scientist! Well that idea lasted about as long as it took to open his car door. And off to Cali we went.

Joby Cummings has won numerous awards in the tattoo industry and in graphic design. I't would be proper to list them but the subject of the awards is relatively disconnected from the current direction of his art. We believe it is better to let you reach your own conclusion rather than let a trophy contaminate your opinion.

Joby's art has been displayed at Monkey King- LA, The Red Crow Studio - San diego, Zubar - Dallas, Velvet Grip - LA, Solsticycle - Echo Park, several Viva LA shows, Cannibal Flower - Los Angeles and numerous other galleries and venues. Many of his original paintings and prints are in private collections Across the United States and Canada.

Publications that have features his artist include: Tattoo Savage, International Tattoo, Skin Art, Tattoo Flash, and Inked - teNeues Publishing. His art also can be found in numerous clothing lines and t-shirt companies such as: Christian Audigier, Scanty Pajamas, Zissou & Spike, BCBG, Vertigo, Joie, ENK, West 49, and Shirt.Woot.

Joby often describes his art as pop culture meets lowbrow nestled in a extra dimensional cartoon that never existed, or did it. He likes to focus on combining elements that normally would not ordinarily be found together and he attempts to find harmony in these items and deliver them with a bit of humor and a nice dose of the bazaar.
Type the title here
Type the text here
Capone - View Tattoo Gallery - Email Artist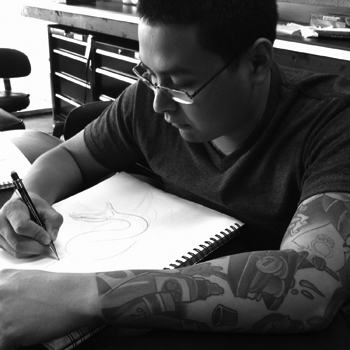 Capone has practiced developing his artistic pursuits all of his life, harboring a strong attachment for art and finding inspiration in the works of Salvador Dali and fellow tattoo artists Rember, Frank Sanchez, and Ronstafari (Ron Givens). Painting is the "ultimate inspiration" for Capone and has a preference for Oil based, chalk, pastels and acrylic when trying to transfer emotions and the self onto canvas. With some college formal studies combined by years of practical application, Capone picked up a tattoo machine and found his calling, he absolutely loves working with the living canvas, and pushing himself to new levels of expression and art. Capone has no preference between color or black and gray work, and has an interest in illustrative and realism pieces. He likes to keep an open mind for any style. Capone is currently at Cat Tattoo in Addison, Tx. If you'd like to make an appointment or are interested in his work feel free to send an email in the link provided or drop a line at Cat Tattoo.
Piercers
Brittany-Jo - View Piercing Gallery - Email Artist



Brittany Jo started her journey to becoming a Piercing Artist & Laser Removal Technician in high school. After turning down scholarships for wrestling, her plan was to graduate early, until hearing about the new Certified Nursing Assistant program. Through this two year course, she gained detailed knowledge encompassing the entire body inside & out. After passing all state exams, she utilized her skills in nursing homes, hospitals & dental offices around DFW . In turn, she was offered an apprenticeship from Dr. Clyde R. Lee at Lee Dental in Frisco, Texas, where she learned in depth information as a Dental Assistant about the oral cavity through maxillofacial surgeries, endodontics and periodontics. She took a 3 year break from the dental assisting world & in that time travelled as a personal assistant, was a Bra Specialist at Victoria's Secret & went to school at The Art Institute for a degree in Culinary Arts. Life brought her back to Texas & into Cat Tattoo with the opportunity of an apprenticeship under Matt Kizer, the head piercer at Cat for over 13 years. He, "Couldn't have had a better mentor!" Through his guidance, she completed her apprenticeship & is now the Head Body Piercing Artist. During this time she was also physician certified to administer laser tattoo removal. Her formal training, paired with over 80 years of knowledge of pigments from the tattoo artists at the studio, elevates her approach beyond technicians just working in clinics & doctors offices.

When asked how she went from wrestling to being a Body Modification Artist she states, "I truly believe everything I've done has happened for a reason & made a prodigious contribution to where I'm at now. As a female on the first wrestling team Frisco had, I learned how to build a strong unit. As a CNA, my bedside manner. As a Dental Assistant, unsurpassed knowledge about the oral cavity & dealing with bloodborne pathogens. As a Bra Specialist, how to comfort, soothe, & even have a good time during uncomfortable interactions. And as a culinary student, making research a consistently integral part of my life."

As the head Piercing Artist & Laser Removal Technician, she specializes in surface anchors and corrective body modification. Being a former avid pierce, she has the perspective of being on the other side of the needle and strives to surpass her former piercing adventures by, " Giving every client the experience I wished to have had, leaving with not only a piercing for years, but proper aftercare knowledge for a lifetime."